About Us
Since year 2000 when our agency was founded, we have helped many women and men to find everlasting happiness together. We are family business providing individual care and support for every client from any country.
All men from all around the world are welcome who feel lonely and looking for their soulmates to visit our marriage agency in Ukraine and use our services.
With high-quality service we'll help you to find the woman of your future. Welcome to Odessalove, where dreams become real, new families and new lives are born. We are located in the Ukraine, in the sunny town of Odessa, which is situated on the shore of the Black Sea. They say Odessa women are the most beautiful women in Ukraine and Odessa is a great vacation resort. Picking Odessa as the main destination of Ukraine is a right decision for the foreigner.
Our mission
.
... is to help marriage-minded women from Ukraine who look for serious relations introducing to serious-minded foreign men and to help find their love and happiness abroad. Our main goal is helping people finding love and getting married. For this to happen we provide the best all to-Western standards respected service for our clients.
How we operate
.
You see only real ladies from Odessa
whose documents are checked by our staff. Before lady joins our agency we talk personally to her to find out her life goals and intentions, personal interests . This information really helps in matchmaking and finding clients the right partner. As we are little agency we have individual approach to every client and treat them like friends.
If you come to Odessa and visit us you will surely be amazed of a great friendly atmosphere we have in our office. Clients and friends gatherings are often held in agency office this way people sharing their life experience with each other.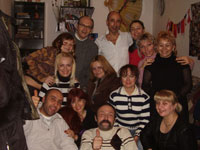 Our staff is very honest and attentive always trying to help you in every aspect of your stay here in Odessa. All our ladies are real, almost all pictures of ladies living in Odessa are made in the agency and have background of our office.
We don't sell women's addresses or pictures, this information is kept confidential.
No agency can guarantee that every marriage will last forever, but we are proud of our track record!
Why we are better
.
Because we are small agency giving individual-like service to every client. Provide with useful advice and show personal care to clients.
We've got many
Happy marriages
and still keep up good relations with many of our ex-clients and give their email addresses to new clients to provide useful information and advice concerning our services.
We have more than 11 years of experience of working in marriage-dating field. We are greatly qualified and know how to help people in any situations.
Welcome to Ukraine marriage agency!