Dating services in Odessa, Ukraine


Below we present information and details on the services, prices and policies provided. You might also want to read our Terms and conditions and Frequently asked questions to get a complete picture of our conditions. Don't hesitate to ask any questions. Address your requests to admin@odessalove.com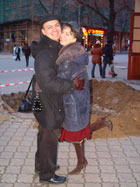 Arrangement of introduction meetings with ladies in Odessa, Ukraine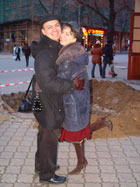 If you are in Odessa, Ukraine
and want to meet women from our agency, we can arrange it for you. Please welcome to our office for a cup of coffee and take a look at the ladies pictures catalogue and get a personal advice from our manager. Meetings that are arranged and scheduled should be paid upfront, if the meeting for some reason did not happen your funds will be returned. For the first meeting, if the lady doesn't speak your language only our interpreter is allowed to help with translations.
If you are planning to come to Odessa, Ukraine
soon and want to arrange meetings with women in advance we suggest you to write to ladies you liked one introduction letter and they will be shown your pictures and information and they will send you reply if they liked you. So this way, you would be able to plan your visit to Odessa, Ukraine and arrange appointments in advance. This first pair of letters is free of charge and allows you to get just some first impressions and decide whether you want to meet that person, or continue correspondence. The further correspondence should be paid, please read
E-mail forwarding
for more information about email correspondence.
Arrangement of one introduction meeting costs
400 UAH (~37 euros)
(paid in UAH according to the current rate).
Please review our
Individual Love Tour
page if you are interested in a full pack of matchmaking/marriage services included for your stay in Ukraine. You don't have to pay for each meeting only when ordering our Love Tour program.
Please note:
*
Success fee
is being applied only when the couple is successfuly matched together. It is a prize for successful matchmaking services of the agency.
E-mail forwarding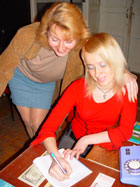 The first pair of letters (letter to lady and her reply) is free of charge for a man (these first letters are the most important and they give the first best impressions). It enables you to find out something about each other and then continue the correspondence.
The letter that has a size of one page (MS Word, Open Office etc.) or less of Arial 12 font costs
$5
. If letter consists of more than one page, you should pay for every page.
The confirmation pictures when a lady gets email costs $3.
Man should pay
$50
to start account for the correspondence. Using this account man can write to as many ladies as he wants. In this price we include free service for your lady, it means you pay for translations of her letters too.
We recalculate account, it will depend on the amount of letters and inform about the account status periodically . If you want to decorate your letter with the box of candies or some rose please look at
Flowers, gifts delivery
section .
Phone conference

2 - way ( you and lady ) conversation costs $30 per 20 minutes.($30 minimum order)
We tell you the time when your lady can be at the office and you call our office number and speak with her on your own with minimum help of the manager if needed. We confirm conversation with photos of the lady speaking with you.
Before ordering this product contact us to see if lady is available at the moment and agreed.
3 - way (you, lady, interpreter) phone conference costs $40 per 20 minutes. ($40 minimum order) We tell you the time when your lady can be at the office and you call our office number and get connected with 2 lines. We confirm conversation with photos of the lady speaking with you.
Before ordering this product contact us to see if lady is available at the moment and agreed.
Web-cam chat in Odessa, Ukraine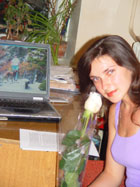 Web-cam chat is a popular technology allowing you and your lady to communicate and see the live picture of each other. The Internet connection in Ukraine is slow. If you are not satisfied with it in the first minutes you may want to stop it, and try it at later time.
For our web-chat we use Skype. In order to use this service please download
Skype
and register your account.
The price is $20 for 10 minutes including interpreting service.
Before ordering this product contact us to see if lady is available at the moment and agreed.
Video of Ukrainian lady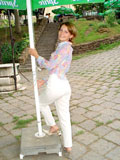 Short videos of 3-4 minutes are a good way to see how your lady acts, her motion. Video clips are a funny, interesting to watch and giving the precise image of the lady. Great means of correspondence for those knowing each for some period of time.
These videos are uploaded to some storage in Internet for you to download it. The price for such video film is $20
Before ordering this product contact us to see if lady is available at the moment and agreed.
Photo printing
Printing out your coloured good quality photos and delivering them to your lady costs $5 for 3 photos.
Newspaper ads
Placing your ad in newspapers where there are thousands of women looking for a partner abroad and due to the lack of communication are unable to reach and get access to many introduction agencies $100. The work includes placing ad in several newspapers, answering the phone calls, mail letters, presenting the women's information and photos to you.

This service is very helpful when you are planning to come soon and want to arrange meetings with ladies in advance. Ad is placed for one month.

Example:
American man, 52 y.o., weight 76kg, height 182cm, active, intelligent, responsible, business owner, serious, loving, with child desires to meet lady of 28-35 years for marriage with pretty appearance, morals and kind soul who wants a good husband and nice life.


Interpreting service
You may use a live speech interpreter's service when you are in Ukraine. The price for one hour is $15.

Usually interpreters are needed in the first hour or so for the lady to feel safe with you at first and get maximum facts about each other.
Fiancee and Visitor Visa support. Marriage in Ukraine consulting
As our agency had many marriages and ladies moving all over the world, we are very experienced in helping the couples with preparing the documents from ladies side and advising men with their part. Even the most qualified foreign attorneys who charge very big money for their service don't know the little details and local laws in the ladies part of documents of how to make the process faster and easier.
Providing effective services to obtain private visitor visa to France, UK, Canada, Italy, Germany, Norway, Sweden, Holland, Belgium, Spain and other Schengen states, full consulting and application support. Professional assist to make your Ukrainian woman visit you in your country.
Professional consulting on marriage registration in Ukraine. If you are planning to get married in Ukraine, we are ready to assist you efficiently with the marriage documents preparation.
Contact us now
to get your price quote and to find out more details.
Success fee
If you and your lady from our agency are successful and are going to be together or get married and you want to remove her pictures from web you should pay agency fee of $200.
Payment
All your credit card information is kept on 2CheckOut server and not seen by others, it is confidential and safe.

If you are not satisfied with the service provided to you please contact us explaining the reason and if it's reasonable you will be able to get the same kind of service for free


Goods and services provided by Odessalove (OD, Ukraine).
Sold by 2CheckOut.com Inc. (Ohio, USA).
Accepted payment methods
:
American_Express
Diner's_Club
Discover
JCB
MasterCard
Online_Check
Visa
Alternative method of payment
:
Western Union
Money Gram


Why you should use
Dating site services?
Feedbacks
Dear Victoriya: I am happy to report that Lori and Kosta are with me in Missouri. Lori and Kosta have arrived safely. We are now in Poplar Bluff. Jessie and I met them at the airport in New York. We had a fun time in NYC for two days. We went to the Statue of Liberty and to the top of the Empire State Building. We went by the place that the twin Towers used to be. We walked a lot because the buses and subway were on strike. We found a beautiful dress for Lori to wear at the wedding. Lori and Kosta are making my house a home. We will marry in Newville, PA on January 14. We will send you pictures. Lori and Kosta will start school on about January 18th. We are now in Poplar Bluff. The wedding is on for Jan. 14 with a reception to follow. Bob and Linda Over have been nice enough to let us use their house in Newville for the ceremony and reception.
Love, Lori, Kosta and Steve
Feedbacks
I know this agency and its director,Victoria,and I find this agency the best there is in Odessa. If they not can help you,nobody can do it!! There is nothing better in Odessa. Keep up the good work and thanks for all the help you was given to me. Many thanks, MARNIK
Feedbacks
Dear Victoryia, Thank you for all your help you provided me in my corresspondence and ultimate visit to Odessa to meet my future bride, Alina. You have a first rate agency and one that is sincere in helping wonderfull Ukrainian ladies to find happiness in marriages with men from all over the world. With some of the stories of some agencies and women using the internet for insincere purposes, it is a relief to know their are people such as yourself and your associate, Genna, dedicated to giving a 100% legitimate service. From your individualized screening of your lady members to your frank and helpfull guidance to prospective suitors, your agency has to be one of the best and I would recommend it without question. Please, feel free to use me as a referral source to any future men who ask to contact someone about your agency's service and legitimacy. Good luck to you in the future and to all your beautifull and very charming ladies.
Sincerely, Pat Boyle, USA patboyle02@hotmail.com
Feedbacks
On my first visit to Odessa I was almost overwhelmed by the beauty of Ukrainian women and that's apart from their many other qualities. I always tell people that Ukrainian woman are definitely the 'crowning jewels' of this country and for a Western man who looks for those missing traditional loyalties and trustworthiness in a relationship, Ukrainian women seem to have this in abundance. My meeting and later marriage to Anastasiya has been a joyful and life changing experience for me and our new life together has exceeded any of my expectations. Thank you Victoria
Robert, England